Meet Carmen Rasmussen of Alpine Outfitters!
CARMEN RASMUSSEN
Guest Speaker, Urban Mushing Clinic
February 17 – 18, 2007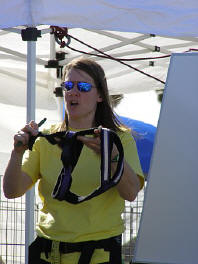 "Alpine Outfitters, can I help you?"
That cheery voice on the other side of the phone line belongs to none other than Carmen Rasmussen, co- owner of Alpine Outfitters, a company based out of Marysville, WA that sells and manufactures different sled dog equipment and gear. Alpine quickly became our favorite source for harnesses and lines, as well as other products, not only because they have quality gear but also primarily because of Carmen's helpfulness and her willingness to share her knowledge.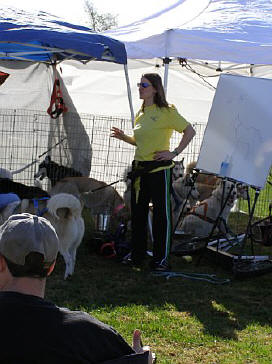 Alpine Outfitters was started by Joe and Becky Loveless in 1988. But in between making the gear, running the front office, AND racing sled dogs, life just got too busy for the Loveless family. Fortunately, by what they deemed a "divine appointment", Joe and Becky met Carmen in 1999 through the NWSDA (NorthWest Sled Dog Association) and a friendship and partnership was born. From hereon, Joe and Becky dealt exclusively with the manufacturing and testing of equipment while Carmen took care of the retail and marketing side of the operation. The beauty of this is that it enabled them to run a successful business and it still gave them time to indulge in their passion --- running sled dogs.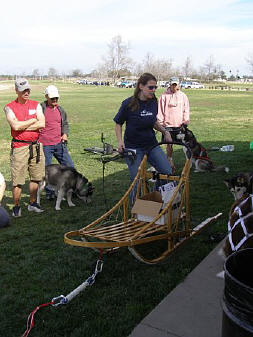 Carmen lives in Marysville, with her husband Darin and their two children, 15-year old Andrea and 13-year old Chris. I spoke with Carmen a few days before she was scheduled to fly down to Southern California to be the guest speaker for our first ever Urban Mushing Clinic.
Urban Mushing: How did you first get started with running sled dogs? Carmen:Oh, it was because I needed to throw away money! (laughs) Seriously, I used to ride hunter jumpers (horses) all through high school but then I got tired of falling off on my head. But I do enjoy the partnership and bond that you develop when you are working together with animals. Then I heard about the Iditarod, and started reading articles about it and dog sledding. I realized this sport had a lot of the same things I loved about riding horses: it was competitive, I can go fast, and I would be training and working with animals.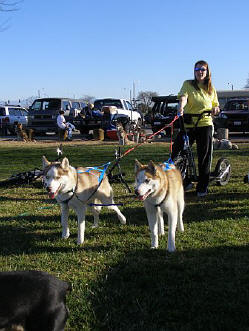 UM:So you wanted to race in the Iditarod?
Carmen:Well, I really enjoyed the sport and I thought that I was just going to have to watch it from afar. But then I found out that we had a club out here called the NorthWest Sled Dog Association (NWSDA) and I started going to their events and that's where I met and started talking to different mushers.
UM:And when did you get your first sled dog?
Carmen:That was around 1997 or 1998 ---- I got four Siberian Huskies.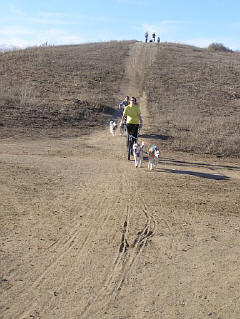 UM:What? You didn't just get one? You dove right into it and got 4 right away?
Carmen: Yes, I did. But eventually, because of my competitive nature, I wanted to go faster so I can win more races so I got Alaskan Huskies. My kids were also racing when they were younger so I would let them run with the Siberians while I raced with the faster Alaskans.
UM: How many dogs do you have now? And what distances do you race?
Carmen: I currently have six dogs, all Alaskan Huskies. They live with us in our home where I am licensed to have a kennel of up to 10 dogs. I mostly race in the 4-dog, 4-mile sprint class but haven't had a chance to do much racing lately, although there was one year where I was the Pacific Northwest 4-dog sprint champion.
UM: What about your husband and the kids? Do they race as well?
Carmen: Darin used to but he wasn't winning races like I was so he stopped doing it. That's also in part because he is heavier than I am and other things being equal, mushers that are lighter in weight have an advantage in the 4-dog sprint races, although that's hardly a factor when you race with 6 or 8 dogs. We all used to race together when the children were younger, but the racing lifestyle just doesn't blend well with high school kids as they have so many other activities that they are now involved with.
UM: And what about training? I suppose you mostly use a cart to train --- where do you go since you live in the city?
Carmen: Yes, I do have a three-wheeled training cart that I use. We're lucky that we have forest service roads that are 30 – 45 minutes away that have trails big enough to accommodate the cart so that's where we mostly train the dogs. If we want to go dog sledding in the winter, the closest trails are only about 2 hours away. I usually run 4 dogs in 4 miles with the cart and then switch dogs and run another group for 4 miles. If Darin is with me, then I am able to run up to 8 dogs at once --- that many dogs is just too much for just one person to handle so I limit myself to four when I am training alone. There is also a short trail close to the house where I occasionally take some of the dogs' scootering.
UM: Do you think you will be able to go back to doing more races next season?
Carmen: I hope so. Joe and Becky are probably going to cut back on racing the long distance events, which means that they will concentrate more on racing smaller teams in the sprint and mid-distance. This also means that instead of having one or two big teams, they will now have 3 or 4 smaller teams that they need to run. And since there are only two of them, guess who's going to be running with their extra teams?
Carmen Rasmussen is also a member of the Marysville City Council. She has a degree in Criminal Justice and worked as an inmate counselor for 10 years prior to taking over Alpine Outfitters' retail operation. She met her future husband while they were still in college --- Darin is now a police detective and has a degree in, of all things, Animal Science.